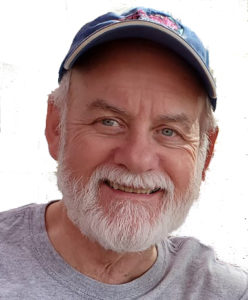 My Wife of 42 years, Robin, and I landed in La Crosse in 1985 by way of  Des Moines, Cedar Rapids and Huntington West(By God)Virginia .  La Crosse was going to be our last move whatever may happen.  I went to work at WKTY as Sales Manager and Robin joined the local Manpower office. Before the year was out we discovered our first child was on the way and Alexandra was born in March of '86.
In 1988 my good friend and mentor Perry St John, his wife Eleanor and I formed a company, White Eagle Broadcasting, and began our search to own our own radio station. About that same time Robin and I discovered we had another child on the way. Andrew was born in November of '88 and we got a license for the radio station shortly after. So Andrew and "The Eagle" were born about the same time. We signed on the Eagle in April of 1989, playing the greatest hits of all time to the accolades of many fans throughout the Coulee Region.
The Eagle went from zero to number one in all the important demographics in no time at all.  We had many "Fan Appreciation" dances and brought in great bands to perform, filling the North Hall at the La Crosse Center many times with our free dances.  Our Halloween dance was one of the most talked about events in the area.  Great personalities like Jim Zippo, J. Fox, and Pat Clark kept the music rolling and the fans singing along.
In 1995 we put on the air our Television station, KQEG TV and my TV career began.  I started hosting what is today the longest running local TV show in La Crosse.  What was the "Bargain House" became "Seven Rivers Shopping" and has now been on the air for 26 years.  After the passing of friend and partner Perry St John in 1999, Eleanor and I sold "The Eagle" to the La Crosse Radio group and continued to develop the TV station.  In 2009 we entered into an agreement with Dave Magnum and merged our TV station in with Magnum Broadcasting.
In 2015 my daughter made us grandparents when she and her husband produced triplets, 2 girls and a boy. What a joy being a grandparent is.  We continue to have lots of fun with them, but due to the pandemic, have not gotten to see them this last year as much as we would have liked to.
I was so thrilled when Dave Magnum called to tell me he had acquired our former radio station and was  migrating "The Eagle" to its new home at 1490am.  He asked if I would consent to host part of the morning show.  So after 53 years in the radio business, I have come full circle,  back to being an on air personality. Its really fun to be back with the Eagle and all the great music I and so many of our listeners grew up with. I hope you enjoy it as much as I do.